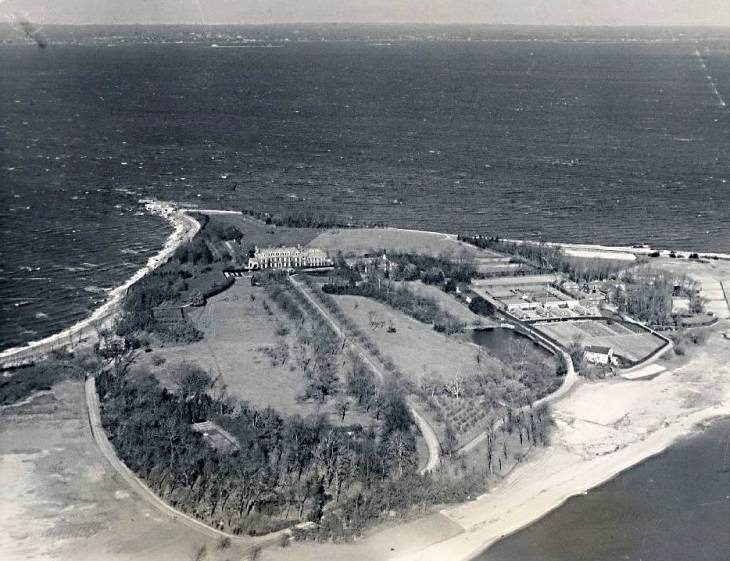 (Above) An aerial shot of J. P. Morgan Jr.'s original estate on East Island in the early 20th century


A Brief History of East Island
By: Koorosh Leibowitz

Because of its proximity to the water, East Island has been occupied since at least the 1600's. Native Americans from the Matinecock tribe occupied the land. The land was then sold in 1667 to one of Glen Cove's earliest residents Robert Williams. Over the years, East Island would change hands many times, Eventually, East Island became the home of financier John Pierpont Morgan Jr., President of the Morgan Bank. Mr. Morgan purchased the home for a modest sum of $10,000 in 1909. Mr. Morgan erected his 41 room, 13 bathroom brick mansion named Matinecock Point. The Morgan family lived on East Island from 1909 until his death in 1943.  Although the mansion is no longer standing, there are still some remnants of his estate on East Island. Present day Dairy Drive and Soundbeach Drive still have original structures, namely the red brick garden wall and the dairy cottage. The bridge contains the original guardhouse Mr. Morgan installed. East Island would become colloquially known as Morgan's Island as a result of Mr. Morgan's ownership.

After Mr. Morgan died in 1943, the mansion was occupied for several years by the Soviet Embassy to the U.S.  After that, it became a home for monastic nuns.  During the 1970's the property was sold to developers; the mansion was torn down in 1980 and replaced by smaller private homes.

Over the years, many famous people lived on East Island. During the 1950's and 1960's, East Island was home to New York professional sports personalities such as Hall of Fame catcher Roy Campanella (who lived at 1 Eastland Drive) and New York Jets Coach Weeb Ewbank (who lived at 8 Eastland Drive).

During the 20th century, surrounding area locals included Junius Spencer Morgan III, J.P. Morgan Jr.'s son. He resided in a mansion on West Island named Salutations, which is still standing and privately owned.  Many other mansions still exist in the area near Morgan's Island, including Frank Woolworth's estate Winfield Hall and mansions built for Charles Pratt's children. The Pratt estates consist of The Manor (known now as the Glen Cove Mansion), Welwyn (situated at the Welwyn Preserve), The Braes (present day Webb Institute), Poplar Hill (present day Glengariff Healthcare Center), and Killenworth (presently owned by the Russian delegation to the U.N.). In more recent years, local celebrities included Mel Gibson and Billy Joel.

Today, East Island contains roughly 140 homes. Present-day East Island inhabitants enjoy the beaches, serenity, use of common properties, and a variety of events that are hosted by the East Island Association. Neighboring East Island is West Island, also known as Dosoris Island. The East Island Association was established in 1947 after J.P. Morgan Jr.'s death to ensure the preservation of the privileges akin with living on East Island. East Island is not only an attractive area for homeowners, but also for filmmakers. Hit shows like Sex in the City and Law and Order were filmed here.